21 From that time on Jesus began to explain to his disciples that he must go to Jerusalem and suffer many things at the hands of the elders, the chief priests and the teachers of the law, and that he must be killed and on the third day be raised to life.

22 Peter took him aside and began to rebuke him. "Never, Lord!" he said. "This shall never happen to you!"

23 Jesus turned and said to Peter, "Get behind me, Satan! You are a stumbling block to me; you do not have in mind the concerns of God, but merely human concerns."

24 Then Jesus said to his disciples, "Whoever wants to be my disciple must deny themselves and take up their cross and follow me. 25 For whoever wants to save their life will lose it, but whoever loses their life for me will find it. 26 What good will it be for someone to gain the whole world, yet forfeit their soul? Or what can anyone give in exchange for their soul?

Matthew 16:21-26
Once you reach a certain age, you can't just eat whatever you want and still feel good. At some point in your life, you have to watch your portion sizes and how many times you go through the drive through each week in order to keep a healthy weight. It is a struggle to get older and eat healthy because fruits and vegetables are good for you, but it seems like the best way for them to taste good is to sprinkle fruit with sugar or drown vegetables in ranch dressing. We all want to eat healthy but sometimes we ask ourselves, "Is it really worth it?"
One example from the Bible of a person sticking to a strict diet comes from the book of Judges. There was a man named Manoah, whose wife was unable to have children. Then, one day, the angel of the Lord appeared to her telling her that she would become pregnant and have a son. The angel of the Lord also told her, 4 "Now see to it that you drink no wine or other fermented drink and that you do not eat anything unclean." The boy was going to be set apart for a special purpose, so his mother was told to keep this special diet. And, the boy's mother kept to the diet by faith in keeping with what the angel of the Lord told her. When the boy was born, they named him Samson, and in keeping with what the angel of the Lord had told them, they never cut his hair. God gave Samson incredible strength and allowed him to lead the people of Israel for twenty years. Samson's primary role was to defend Israel from their enemy the Philistines. With his God given strength, Samson continued to win battles against the Philistines, until they found the secret to his strength. After asking him many times and giving false answers, Samson revealed the secret of his strength to a woman named Delilah. Delilah then told the Philistines that if they cut Samson's hair, he would become as weak as any other man. So, the Philistines came, cut Samson's hair, gouged out his eyes and put him in prison. Samson lost his great strength because he did not remain faithful to God by keeping the secret of his strength.
You are faced with the temptation to take the easy way out as a follower of Jesus. In our reading from Matthew 16, Peter was shown the cost of following Jesus. Last week, in the verses just before the reading from Matthew 16 for today, we heard Peter give the correct answer to Jesus' question, 15 "But what about you?' he asked. 'Who do you say I am?'" And, 16 "Simon Peter answered, 'You are the Messiah, the Son of the living God.'" Peter and the other disciples understood who Jesus was, but they did not fully understand what Jesus was going to do. After Jesus heard Peter's answer, 21 … "Jesus began to explain to his disciples that he must go to Jerusalem and suffer many things at the hands of the elders, the chief priests and the teachers of the law, and that he must be killed and on the third day be raised to life." With these words, Jesus revealed his purpose for coming into the world. He was the Savior who would sacrifice his life to save us from our sins and be raised to life guaranteeing our resurrection to eternal life. This was Jesus' purpose, but these were hard words to hear for the disciples, so 22 "Peter took him aside and began to rebuke him. 'Never, Lord!' he said. 'This shall never happen to you!'" Peter's response to Jesus did not come from a heart of faith in what God revealed to him, but from his human mind; from his own reason and emotions, from sin and the devil. So, 23 "Jesus turned and said to Peter, "'Get behind me, Satan! You are a stumbling block to me; you do not have in mind the concerns of God, but merely human concerns.'" Peter fell into the trap of looking at Jesus without the eyes of faith. This same trap catches you and I when we do not follow Jesus by faith. This trap catches you and I when we rewrite the definition for following Jesus rather than let him tell us what it means to be his disciples.
Jesus made it clear that following him will not be easy. In Matthew 16, 24 … "Jesus said to his disciples, 'Whoever wants to be my disciple must deny themselves and take up their cross and follow me.'" Crosses for believers are the hardships, sufferings and persecutions that come from faithfully following Jesus. The devil and our sinful nature would have us believe that following Jesus means life is going to be easy since we are now forgiven for all our sins and we have the Almighty God, the Creator of the universe, who controls and sustains all things working for us to give us whatever we want. This idea mixes truth with lies, which has always been the devil's game. On the one hand, you are forgiven for all your sins through Jesus and you are connected to God Almighty by faith, a faith that now wants to do and have the things that God calls good. On the other hand, you and I still have our sinful nature, so we still have sinful desires to do things and get things that God does not want us to have, things that are not good for us. Thus, being a disciple of Jesus and following him means denying doing and getting things that are not good for us. And, the devil, our sinful nature and the sinful world around us will make us suffer for it. That is what it means to take up your cross. And, when you do not take up your cross, when you put the cross down, when you do not think, speak or act in faith, you threaten your relationship with God and following that pattern enough destroys faith, loses eternal life and forfeits your soul to hell.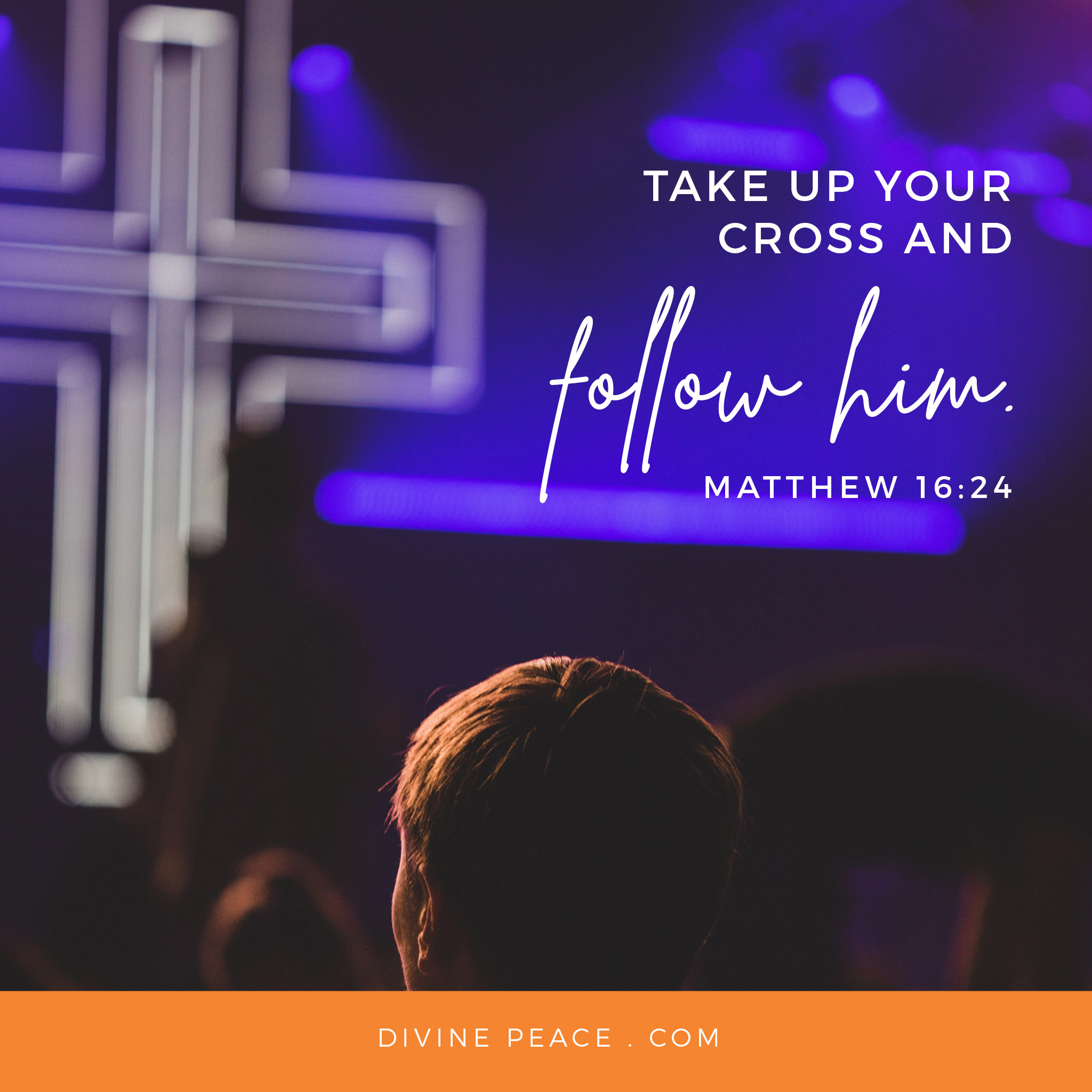 The devil wanted Jesus to skip the cross, the suffering and dying. The devil worked to tempt Jesus away from his path to the cross and Jesus called him out on his lies. Jesus called him out into the open and before the whole world crushed him. Jesus kept his promise to 21 … "go to Jerusalem and suffer many things at the hands of the elders, the chief priests and the teachers of the law, and that he must be killed and on the third day be raised to life." Jesus let himself be brought to the cross and put to death, the devil's greatest weapon, and then he came back to life. He proved for all time that his great power to give life will not be overcome by anything. The devil continues to spread the lies about what Jesus came to do and what it means to be a follower of Jesus, but you reject the devil by holding on to Jesus, to the Messiah, the Son of the living God, who sacrificed his life for you on the cross, paid for your sins, rose from the dead, gave you a perfect clean record of righteousness before God and ascended into heaven where he rules all things waiting to return to bring you home to heaven. Jesus was the perfect follower who took up the cross to save you.
Jesus described what it means to be his follower like this; 25 "For whoever wants to save their life will lose it, but whoever loses their life for me will find it." Samson lost his strength when he could not keep the secret of his strength from Delilah's pestering him and when the Philistines shaved his head, he was put in prison. While he was in prison, Samson's hair grew again. And, one day, when the Philistines were offering a sacrifice to their false god in thanks for delivering their enemy Samson into their hands, they brought Samson out of prison to entertain them. Samson asked a servant to put him between the columns of the palace and praying to God to remember him and for strength, Samson pushed apart the pillars bringing down the whole palace. Thus, through his death, Samson killed more Philistines than when he was alive.
Peter was absolutely wrong when he tried to correct Jesus about his purpose having in mind the concerns of man and not the concerns of God. Yet, after Jesus rose from the dead in John 21, he spoke with Peter saying, 17 … "'Feed my sheep. 18 Very truly I tell you, when you were younger you dressed yourself and went where you wanted; but when you are old you will stretch out your hands, and someone else will dress you and lead you where you do not want to go.' 19 Jesus said this to indicate the kind of death by which Peter would glorify God. Then he said to him, 'Follow me!'" Jesus called Peter to follow him, to go and feed the people with the Word of God to keep their souls sure of their forgiveness through Jesus. Jesus' call to Peter also meant Peter would die for following Jesus.
Jesus' has called you to be his follower. Now, you might be wondering if you have to die like Samson and Peter to be a follower of Jesus since they died for following God in faith, and since Jesus said, 25 "For whoever wants to save their life will lose it, but whoever loses their life for me will find it." The truth is, I do not know if you will face death as a direct result of following Jesus, but Jesus does make it clear that he is not just interested in you physically dying for him. He wants your whole life, how you live day to day, to be given up for him. Jesus said, 26 "What good will it be for someone to gain the whole world, yet forfeit their soul? Or what can anyone give in exchange for their soul?" Nothing in this world is worth denying Jesus and giving into sin and unbelief. You cannot bargain with God at the end of your life. Instead, Jesus already made an exchange for your soul. He exchanged his life for yours, to guarantee that your soul would be in heaven. Paul in Romans 12 gives examples of 25 … "whoever loses their life for me will find it." Paul wrote, 6 "We have different gifts, according to the grace given to each of us. If your gift is prophesying, then prophesy in accordance with your faith; 7 if it is serving, then serve; if it is teaching, then teach; 8 if it is to encourage, then give encouragement; if it is giving, then give generously; if it is to lead, do it diligently; if it is to show mercy, do it cheerfully." God has called you to faith. He has called you to follow him. You each have different gifts, gifts that could be used to gain your own piece of the world, but by grace you no longer follow the ways of this world. By grace, you take up your cross to use your gifts to give glory and thanks to God, even when the world rejects you for doing so.
Once you reach a certain age, you realize you've got to watch what you eat. Faith in Jesus keeps your eyes watching out for the lies of the devil and focused on what it means to be a follower of Jesus. The devil wants you to believe that you can have all the fatty, salty and sweet sins, and then run back to Jesus for a quick forgiveness boot camp. That lie will lead you to exchange your soul for pieces of a dead world. Instead, your life has been saved by Jesus. You no longer live for the dead world, but you live for the Savior who on the third day was raised to life. Lose the weight of sin, lose the idea of saving your own life and lose the idea of finding yourself in the broken world. And, follow Jesus with your cross for life! Amen.