13 "You are the salt of the earth. But if the salt loses its saltiness, how can it be made salty again? It is no longer good for anything, except to be thrown out and trampled underfoot.

14 "You are the light of the world. A town built on a hill cannot be hidden. 15 Neither do people light a lamp and put it under a bowl. Instead they put it on its stand, and it gives light to everyone in the house. 16 In the same way, let your light shine before others, that they may see your good deeds and glorify your Father in heaven.

17 "Do not think that I have come to abolish the Law or the Prophets; I have not come to abolish them but to fulfill them. 18 For truly I tell you, until heaven and earth disappear, not the smallest letter, not the least stroke of a pen, will by any means disappear from the Law until everything is accomplished. 19 Therefore anyone who sets aside one of the least of these commands and teaches others accordingly will be called least in the kingdom of heaven, but whoever practices and teaches these commands will be called great in the kingdom of heaven. 20 For I tell you that unless your righteousness surpasses that of the Pharisees and the teachers of the law, you will certainly not enter the kingdom of heaven.

Matthew 5:13-20
It's good to have kids around when you are cooking. It's good to have kids around when you are cooking because one of the basic rules of cooking is to taste your food as you are cooking it. Tasting your food allows you know how to season it. Kids are great taste testers because they are often brutally honest when it comes to what they are eating. If a kid does not like what they are eating they express it by grimacing, spitting food out of their mouths or throwing it on the floor, and then they will tell you why they did not like what you gave them to try. The simple honesty of kids is great when you want to know how to season your food, and in our gospel reading from Matthew 5, Jesus also spoke with simple honesty when he said about our lives that saltiness matters.
Jesus was talking to believers when he gave his sermon recorded in Matthew 5. The sermon Jesus gave in Matthew 5 is referred to as the Sermon on the Mount and it listed out what are called the Beatitudes, meaning statements of blessing. Jesus was preaching on a mountain, thus the title, and he described how Christians are blessed in eight ways, these are the "Beatitudes." Jesus said, "Blessed are the poor in spirit…those who mourn…the meek…those who hunger and thirst for righteousness…the merciful…the pure in heart…the peacemakers…those who are persecuted because of righteousness." Again, this was a description of the ways Christians are blessed. This is not a list of ways to act, it is a list of what Christians are because of God's blessings. Each of these statements highlights our need of something from God and follows up with how he blesses us. For example, the first full Beatitude reads, 3 "Blessed are the poor in spirit, for theirs is the kingdom of heaven." Jesus was encouraging his followers that though they are poor in spirit or sinful, they are members of God's kingdom and heaven is theirs. Jesus' Sermon on the Mount was meant to encourage believers by telling them all the blessings God has given them. And, then Jesus went on to encourage them how to live as God's blessed people.
Jesus calls all believers salt. The message Jesus encouraged the believers with long ago on the mountain side still applies to you. Jesus said, 13 "You are the salt of the earth." Jesus said that is what you are as one of his people. He did not say, "You might become salt, I wish you would become salt, become salt or be the salt of the earth." He simply said, "You are salt." Jesus described those who believe in him as salt because salt preserves, it gives life, it keeps things from going bad, it purifies, etc. This is what we do as believers among one another and among those who do not believe. We give life and spread what is good in this world. We do this as salt because God made us salt.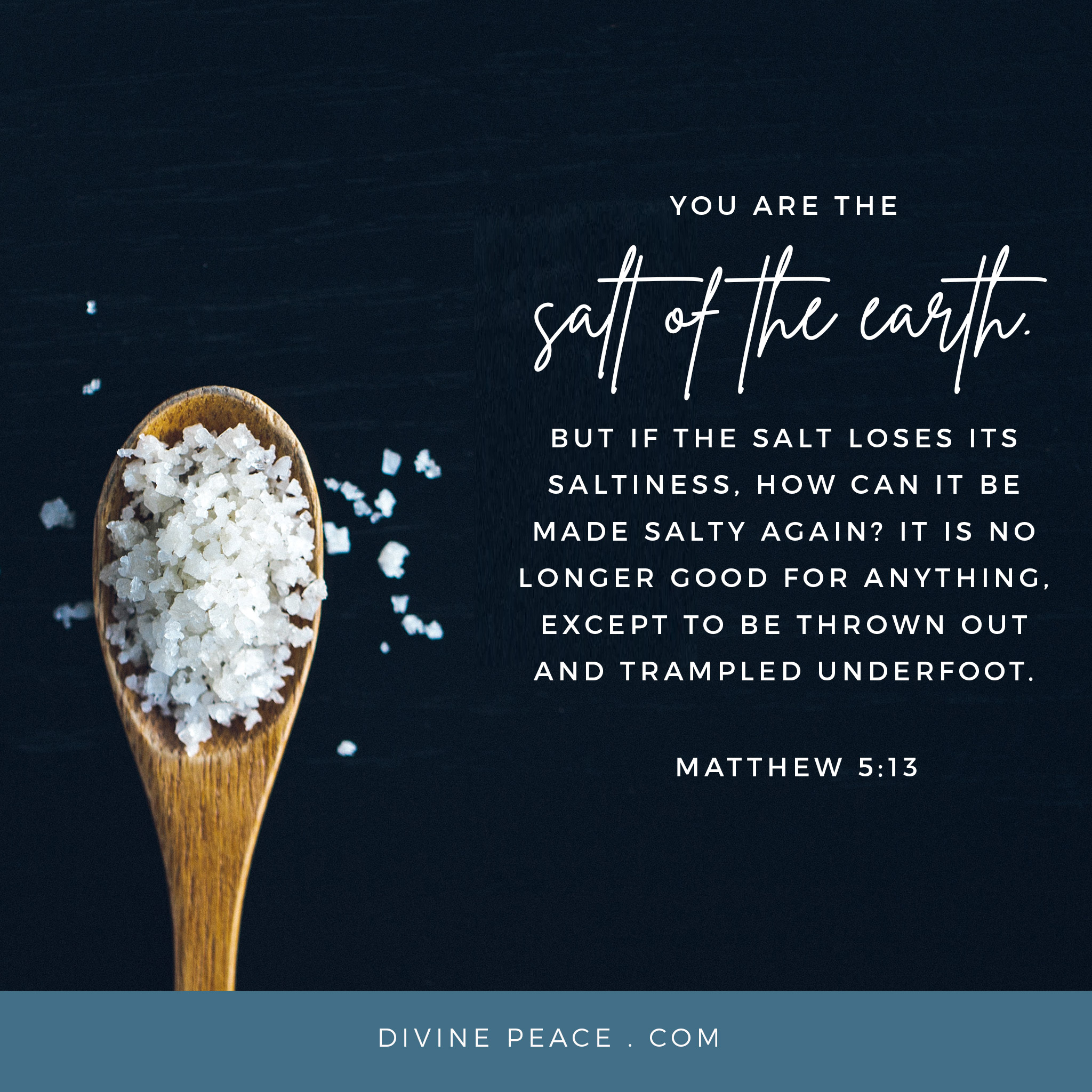 It was God's mercy that changed you and I into salt. Before Jesus can call any of us "salt," he had to change us. In our reading from 1 Peter 2, God revealed how we became salt, 10 "Once you were not a people, but now you are the people of God; once you had not received mercy, but now you have received mercy." God's mercy made you salt. God's mercy was that he did not punish us for our sins, but punished Jesus in our place as we read in Isaiah 53:6 "the Lord has laid on him the iniquity of us all." Iniquities are things that are wicked, backwards, hurtful and perverse, things universally recognized as bad that have consequences and punishments. The consequences of your bad, selfish and sinful behavior were all given to Jesus and paid for by his death on the cross.
God did all of this because he loves you. In Romans 5:8, Paul wrote, "But God demonstrates his own love for us in this: While we were still sinners, Christ died for us." Now that God showed you mercy in Jesus, you are good, perfect, holy, righteous, accepted and worthy. Peter wrote, 9 "you are a chosen people, a royal priesthood, a holy nation, God's special possession, that you may declare the praises of him who called you out of darkness into his wonderful light." You are these things through Jesus. This list is a declaration of who you are in Christ, not what you might become or need to work on becoming. You are forgiven, saved, one of God's people and you are salt.
Saltiness matters because it can either preserve or destroy. When we claim to be the salty followers of Jesus and share his love in how we speak and what we do, then we give glory to God and lead others to him. On the other hand, when we claim to be salty followers of Jesus, but do not share his love in how we speak and what we do, then we destroy those around us by turning them off to God. To be blunt, God made you salt to preserve, not to destroy.
Saltiness matters because it has an effect on people. Jesus said, 13 "But if the salt loses its saltiness, how can it be made salty again? It is no longer good for anything, except to be thrown out and trampled underfoot." Jesus' point is do not lose your saltiness. Being salty, being a believer, a follower, a disciple, a Christian is not doing whatever feels good, whatever the latest talk show host promotes, whatever your political party pushes or even what your close family and friends tell you, then running to Jesus for a quick dose of forgiveness on a couple Sundays each month just to cover yourself in case you were doing something God did not like. Being salty does not mean living like the sinful world, then running to Jesus for forgiveness. Being salty starts with who you are as a forgiven child of God, then using his Word as a guide for how to live and as a weapon to fight against living like the bland, selfish, sinless, tasteless, dead and saltless world. Your saltiness then gives glory to God and brings others to give glory to God.
Jesus said that you are salt all the time, not just on special occasions. In our reading from Isaiah 58, the prophet recorded these words of God, 5 "Is this the kind of fast I have chosen, only a day for people to humble themselves?" God wanted his people to be fully devoted to him, not just show up on the special days and put on a good face. God loves when you are here in worship hearing his Word, taking communion and encouraging one another in faith. He also loves when you live your faith for the rest of the week. God has changed your heart to love him, not just for an hour on Sunday, but every hour of your week. The prophet Isaiah described what our lives look like when we are out living our lives as God's people writing, 7 "Is it not to share your food with the hungry and to provide the poor wanderer with shelter—when you see the naked, to clothe them, and not to turn away from your own flesh and blood?" When you see someone hungry on the street or someone struggling to keep up with meals at home, we are the ones who feed them. When someone needs a hotel room for a night or someone's home needs a repair, we are the ones to give them shelter. When someone can't afford clothes for school, work or the cold, we are the ones to clothe them. When our own family needs us, we are there for them.
When your friends, family, coworkers, neighbors, Facebook friends, Instagram followers and random people you run into throughout the day can't tell whether you taste salty or not, that is not good. It is not good when you do not taste salty because it means you are no longer what Jesus made you. We are blessed to be reminded each time we gather together around God's Word to hear what Jesus made us, perfect and dearly loved children of God. We are blessed to have faith, God's Word and one another to be able to taste test the people and ideas around us. Jesus said, "You are the salt of the earth." Spit out whatever is in your life that keeps you from being salty and hold on to what keeps you salty.
Kids are great to have around when cooking because they tell you exactly how they feel about whatever you give them to eat. Jesus spoke with simple honesty when he said that saltiness matters! He said it as simple and clear as a child would so that you, your kids and everyone would know that God made you salty through Jesus and he is with you as you live salty lives.Amen.